Overview for Problem/Project Based Learning
What is Project Based Learning?
Project Based Learning (PBL) is a teaching method in which students learn by actively engaging in real-world and personally meaningful projects.

Students work on a project over an extended period of time – from a week up to a semester – that engages them in solving a real-world problem or answering a complex question. They demonstrate their knowledge and skills by creating a public product or presentation for a real audience.
As a result, students develop deep content knowledge as well as critical thinking, collaboration, creativity, and communication skills. Project Based Learning unleashes a contagious, creative energy among students and teachers. Health Education provides engaging and complex content that provides a foundation for PBL's. PBL is for all students consider how you can leverage students grouping, and Universal Design Principles to support all students.
The Buck Institute for Education PBL Works
has identified 7 Gold Standard PBL Teaching practices. Identified in the graphic below. As you are working through creation of PBL's these practices should be followed.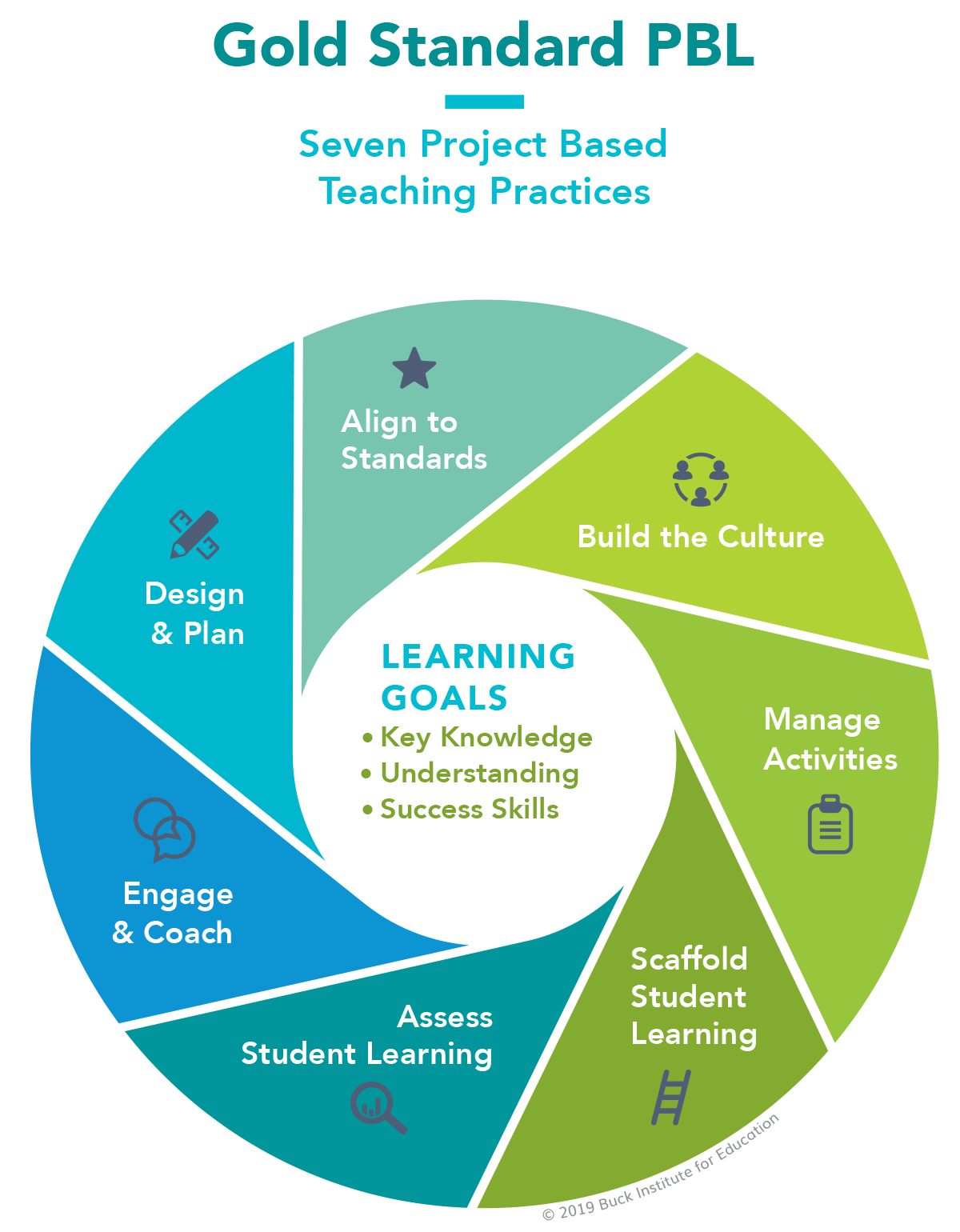 Seven Project Based Teaching Practices
Teachers create or adapt a project for their context and students, and plan its implementation from launch to culmination while allowing for some degree of student voice and choice. Consider starting with a smaller short term project with a specific focus.
Teachers use standards to plan the project and make sure it addresses key knowledge and understanding from subject areas to be included. Start with the health education standards and the health skills, but consider how a PBL can and should address multiple standards across multiple content areas.
Teachers explicitly and implicitly promote student independence and growth, open-ended inquiry, team spirit, and attention to quality. In building a positive classroom culture consider teaching explicit health skills such as communication skills, collaboration and decision making skills. Consider how you will explicitly teach and provide opportunities for practice of these skills prior to the PBL.
Teachers work with students to organize tasks and schedules, set checkpoints and deadlines, find and use resources, create products and make them public.
Scaffold Student Learning
Teachers employ a variety of lessons, tools, and instructional strategies to support all students in reaching project goals.
Teachers use formative and summative assessments of knowledge, understanding, and success skills, and include self and peer assessment of team and individual work.
Teachers engage in learning and creating alongside students, and identify when they need skill-building, redirection, encouragement, and celebration.
Seven Essential Project Design Elements
The Buck Institute for Education PBL Works
has a identified seven essential project design elements when creating PBL's. These elements are related to how teachers can design PBL project.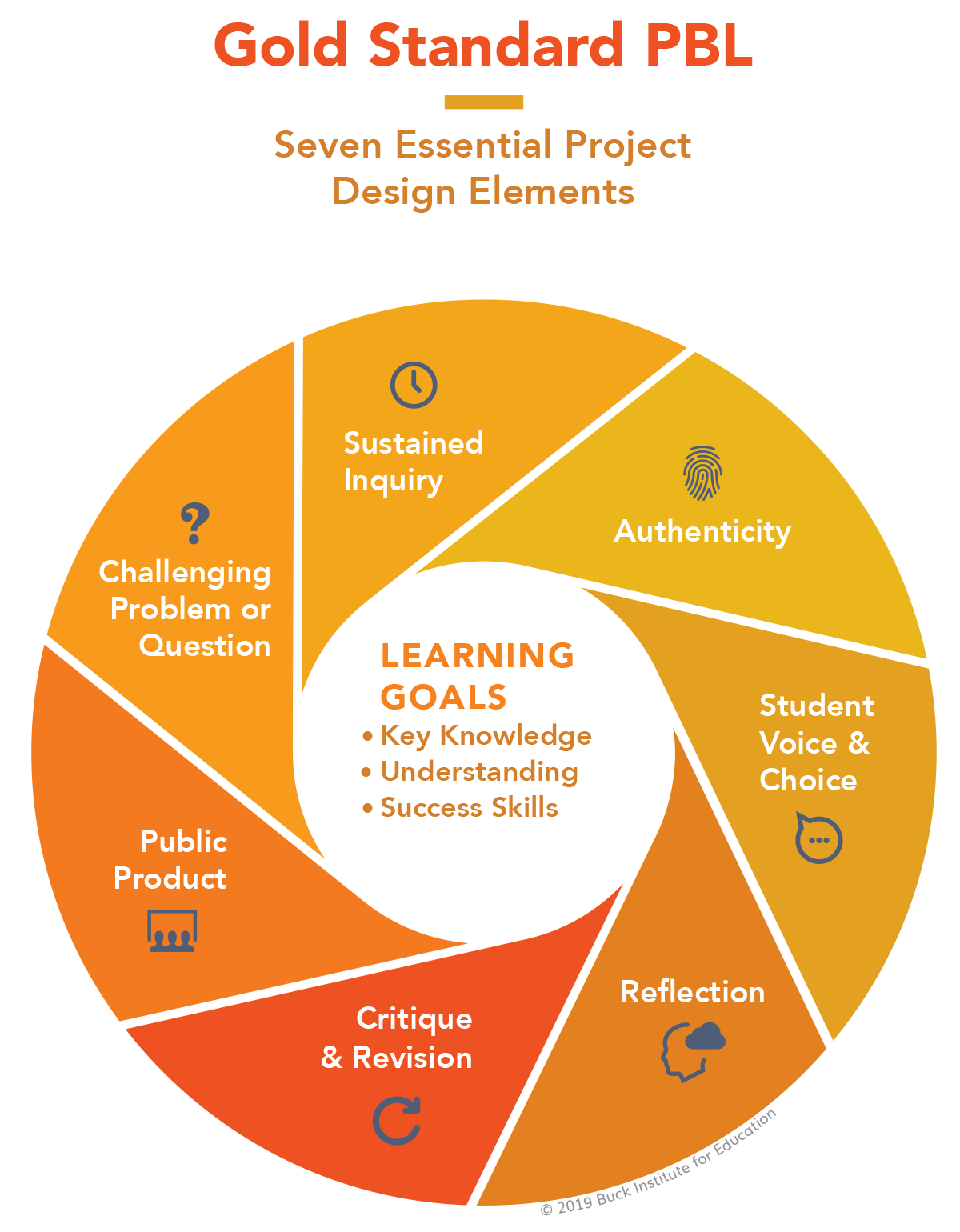 A Challenging Problem or Question
The project is framed by a meaningful problem to be solved or a question to answer, at the appropriate level of challenge. Consider how you will engage students in identifying problems based on the standards. Use an engaging hook to spark interest and passion for deeper inquiry, such as a current event, guest speaker, or video clip. Often a quick news clip of a teenager doing awesome things is all it takes to spur students on to do the same. Engage parents or local community experts or partners to present to students.
Students engage in a rigorous, extended process of posing questions, finding resources, and applying information. This is an interactive process that occurs throughout the PBL process.
The project involves real-world context, tasks and tools, quality standards, or impact, or the project speaks to personal concerns, interests, and issues in the students' lives.
Students make some decisions about the project, including how they work and what they create.
Students and teachers reflect on the learning, the effectiveness of their inquiry and project activities, the quality of student work, and obstacles that arise and strategies for overcoming them.
Students give, receive, and apply feedback to improve their process and products.
Students make their project work public by explaining, displaying and/or presenting it to audiences beyond the classroom.
Examples of PBL's in Health Education.
The following recorded webinar provides a framework and examples of using PBL's in Health Education.
For more information https://thehealthteacher.com/2016/11/18/pbl-health-workshop/
PBL Starters from Health Teacher Blog:
* this post originally appeared on Choices.Scholastic.com / https://thehealthteacher.com/12-grab-go-projects-for-health/
As a head start, here are some ready-to-go projects you can adapt them to your class as needed. Just click on the project title for a step-by-step outline.

Last modified: Thursday, 10 September 2020, 9:10 AM